(Photo: Marcel Petiot in court: Source: Libération de Paris) On March 11th, 1944 when Commissaire Massu went to investigate a putrid smell and thick, acrid smoke emanating from the basement of 21, rue Le Sueur in the 16è arrondissement in Paris, he had no idea of the shock that lay ahead....a pit of quicklime still filled with human remains, a system of pulleys, ropes and chains over a deep trench, a 'blind' wall hiding comings and goings from potentially curious eyes of neighbours, a strange, small, sound-proofed outbuilding, a coal stove evidently for burning body parts as bones were clearly visible, bits of human debris strewn all over the place - arms, legs, skulls, bones and...not far from where he stood, a body slit from head to toe clearly awaiting disposal. The search was on in Paris for a serial killer.
Identifying the owner of the basement as a Dr Petiot, it soon became painfully obvious he was nowhere to be found. Massu wondered whether Petiot was a member of some Gestapo death squad for there were far too many bodies for one man to deal with alone, but a rapid telegramme from Massu's hierarchy put pains to that lead: "Order from the German authorities: procede with Petiot's arrest. Dangerous madman." If Petiot had been working for the Gestapo (whose HQ were also in the 16è, rue Laureston), they would have protected him. They didn't. A massive man-hunt began.
(Photo: 21, rue Le Sueur: Source: Guillotine) The newspapers had a field day, reporting on the "abominable Dr Petiot" and "le vampire de l'Etoile". They were also very quick to report the embarrassing fact that he had simply vanished into thin air.
However, a scandalous article soon appeared in the newspaper, Résistance, in September '44 aimed at bringing Petiot out of his hole. The journalist Jacques Yonnet told readers that Petiot was a weasel. Not an admirable doctor at all but a cocaine trafficker, a spy, a double-crosser and informer for the Gestapo in Marseilles.
The article had the desired effect. Megalomania pricked, Petiot was beside himself with rage. A man who considered himself digne of the utmost respect and admiration, he liked to be taken seriously. Very seriously indeed. Through a lawyer, he addressed the journalist in a letter of protest in which he swore he had acted for the resistance. His one vital error was to hand-write the letter. A rumour had spread that Petiot was a member of the militia and was serving in the 'treatment/purification' sector under the assumed name of 'Valéry'. The hand-writing of the letter was compared to several specimens belonging to high-ranking members...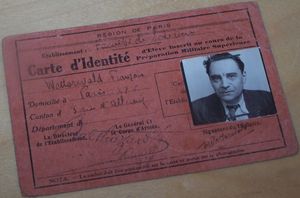 (Photo:Carte d'Identité found on Petiot in the name of 'Wettervald': Source: Guillotine)31st October, 1944, almost 67 years to the day, a Captain Wettervald was stopped by four men on the steps of the St Mandé Tourelle metro near Vincennes. Wettervald was taken to Reuilly where he was found in possession of a revolver, patriotic militia cards, an ID card for membership to the French Communist Association, a communist party membership card, 31,000FF in cash and a sizeable number of papers and documents in the names of Valéry, Wettervald, Gilbert, de Frutos and Cacheux. On 20th August, documents proved that Petiot had indeed joined the militia under the pseudonym Valéry.
Now for a little background on Marcel Petiot before we go any further, for there were signs of psychopathy from a very early age. Things don't change, it seems, for although he was interned in several psychiatric hospitals and even served jail-time, he was set free, and, criminal insanity notwithstanding, he became a physician. Judging by all that you will learn, it will come as no surprise that Petiot did what he did. The writing had been on the wall for decades.. well, read on:
Since early childhood, Petiot had shown signs of cruelty and violence from strangling a cat after having thrust its paws into boiling water, to shooting live animals, watching them die in agony. When he was 8, he distributed obscene images to his classmates at school leading to a spell in St Anne's psychiatric hospital. His mother died when he was 12 and from that point on, he was moved from correctional institution to correctional institution. None of them did any good. At 17, he was arrested for theft but was never sentenced as a psychiatrist declared him inapt for judgement, diagnosing bi-polar disorder.
In 1916, he was wounded in WW1 by grenade shrapnel. Accused of stealing a blanket at the hospital where he was treated, he was sent to the military prison in Orléans before being transferred to a psychiatric hospital in Fleury-les-Aubrais where psychiatrists declared him a neurasthenic, mentally unstable paranoid depressive with tendancy to phobias. Quite a list. Despite all that, he was sent back to the front in 1918, wounded again and sent back to the psychiatric hospital.
Because ex-war veterans were entitled to easy access to studies, he obtained his medical diploma on 15th December, 1921 at the Paris Fac. (although THIS article states that the diploma obtention was highly unlikely due to the time factor and Petiot's mental history, which leads one to believe he was never a doctor at all) and opened his own surgery at Villeneuve-sur-Yonne in 1922 where he became very popular largely due to giving free consultations and vaccines to immigrants, curing all gynaecological ills with abortion and treating drug addicts' withdrawal symptoms by prescribing them any drug they wanted. The 'good doctor' was remarked early on, though, to having a certain tendancy to cleptomania...
In 1926, the villagers of Villeneuve-sur-Yonne became aware of a 'liaison' between the 'good' doctor and the daughter of one of his patients. A short time later, the girl's house was burned to the ground and she disappeared without trace. A decomposed, unidentifiable body was found over the following months leading the investigators to believe that, logically, it must have belonged to the missing girl. However, no link could ever be tied to Petiot despite numerous pain-staking efforts on the part of the local police who were convinced of his guilt. Another 'incident' concerned Louise Delaveau, another of Petiot's girlfriends. Louise had the misfortune to become pregnant and told a friend in the village that Petiot wanted to perform an abortion. Louise vanished mysteriously and when the headless corpse of a woman turned up in the River Yonne, the villagers insisted it was that of Louise and Petiot had 'done her in'.The police did not investigate, claiming insufficient evidence. For yet more info (do you need more?) on Petiot's grizzly crimes at this time, see HERE.
He was elected mayor in a very dubious election in 1926. Very quickly, he was brought in front of a tribunal for a long list of misdemeanours: fraudulent social security declarations, money-laundering, electricity theft to name just a few. His position as mayor was revoked in 1931 but he was elected conseiller général that same year. Three years later, he was definitively fired for further illegal dealings and barred from any kind of electoral mandate. It was at this time that stories of unexplained disappearances began to surface. In 1933, Petiot signed the death certificate of an important witness in a murder trial where he, himself was implicated since the victim had vanished after a consultation with Petiot. Futher pursued by the courts for diverse petty crimes, Petiot moved to Paris. You now know what happened next.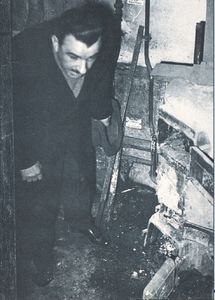 (Photo: Commissaire Massu at 21 rue Le Sueur: Source: Guillotine) Petio insisted he had only killed Germans and collaborators. His 63 victims identified from the 72 suitcases and 655 kg of belongings (including a pair of child's pyjamas belonging to little René Kneller who had disappeared along with his parents) he had imprudently (and arrogantly) kept as trophies, were, however, candidates for escape plans to freedom. Head of a fictitious resistance network, he lured them to rue Le Sueur, then, after having derobed them of money, jewellery and all other belongings, he killed them most horribly (it was later proven that the sound-proofed outhouse was the 'surgery' where he had injected his 'clients' with lethal substances. He used a peep-hole in the door to watch as they died in agony), disposing of their bodies either in the quicklime pit, a water-boiler or the coal stove.
In an article "Dr Petiot will see you now", Marilyn Z. Tomlins writes for Crime Magazine: "It was May 25th, 1946: a Saturday morning. Dr. Petiot, 49, had stood trial at the Assize Court at the Palais de Justice for the murder of 27 people. He had been found guilty of the murder of 26. The police had thought, though, that he had murdered many more: 200 was the number they suggested. "To be on the safe side, I'll settle for 150," one of the police investigators had said. As required by French law, on the opening morning of the trial, the judge who was to preside over the proceedings (Marcel Leser) had confronted Petiot in an ante-chamber. "You are going to be tried for the premeditated assassination of 27 people. If you are found guilty you will be executed by guillotine," he had warned. "Not 27," Petiot had replied, arrogance in his voice. "I liquidated 63 persons, but all were enemies of France!" "
Dr Marcel Petiot was guillotined on May 25th, 1946 at Prison La Santé in Paris.
Horribly fascinating? Well, if I hadn't received THIS article from NYT this morning, I'd never have known and you'd never have known either (unless you already did). For more on this grizzly tale, a new book has just been launched entitled 'Death In The City Of Light' by David King.